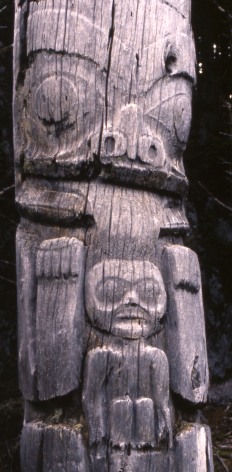 Ninstiints, Queen Charlotte Islands --Graytech

Comprising Canada's First Nations Peoples, seven distinct indigenous language and cultural groups have lived on the Northwest Coast between Skagway, Alaska and Seattle, Washington. From north to south, Tlingit, Tsimshian, Haida, Kwakwaka'wakw (aka Kwakiutl, Kwagiutl, Kwagiuth, and Kwaaqyuulth), Bella Coola, West Coast (aka Nuu'chah'nulth, formerly Nootka), and Coast Salish, which includes the Squamish, have each developed highly distinctive cultures and geographical subdivisions or bands. Nonetheless, since Emily Carr operated more in the personal than in the political realm, she probably didn't distinguish much between them, taking them all to her bosom as creative souls living in the margins of majority society, an identification she shared.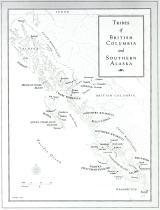 Northwest Coast Map --Viking Peguin

Because the rich sea life and forest resources made aboriginal survival relatively easy, and people learned how to preserve and store food, time was available for the development of a complex social and ceremonial life supported by art forms unique to this part of the world and considered by anthropologist Claude Lévi-Strauss to be equal in significance to those of Greece and Rome.
The term "totem pole" generally refers to the tall cedar poles with multiple figures carved by Native people of the Northwest Coast beginning in the early nineteenth century. There are primarily three types of monumental poles: house frontal poles placed against the house front, often incorporating doorways of houses; carved interior house posts that support massive roof beams, and free-standing memorial poles placed in front of houses to honor deceased chiefs or mythical beings. Mortuary poles in some locales supported boxy coffins at the top. The figures on totem poles are inherited crests, mostly animistic, which identify the pole owners and tell their family histories. Clearly, they are not worshipped in any religious sense, but they do play a central role in aboriginal culture for thousands of years, as well as today.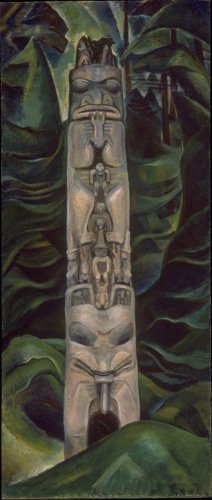 Emily Carr: Totem and Forest, oil, 1931, 129.3 x 56.2 cm. Location: Vancouver Art Gallery, VAG 42.3.1.© Vancouver Art Gallery

Originally, tall multiple-figure poles were first made only by the Haida on the Queen Charlotte Islands, the Tlingit in southeastern Alaska, and Tsimshian in northern British Columbia. For Tlingit forms, each figure is separated from the ones above and below it by a groove, while Haida forms are intertwined without a horizontal groove between them. A beaver's stretched tongue could lie on the forehead of a bird beneath it, and a frog's hind legs could be wiggling out of a bear's ear.
A different style grew up among the Kwakwaka'wakw consisting primarily of large free-standing human welcome figures, mythical beings, and interior house posts. The Nuu'chah' nulth on Vancouver Island's West Coast, and the Coast Salish in Southern British Columbia and western Washington also carved large human figures representing ancestors and spirit helpers on interior house posts and as grave monuments.
Carvers of multiple-figure poles divided space in proportion to the tapering width of the pole, not according to the relative size of the real animal as found in nature. Animal figures could be stretched or compressed to suit the carver's expressive intent. A beaver could be as large as a whale, a bear smaller than a raven. A beak could be larger than the bird's body, or the angle of a wolf's eyes could be slanted to look wicked. The expressiveness of the animals portrayed is apparently without limit. They could be fierce, threatening, sleepy, playful, sad, worried, proud.
Carr was attracted to the mixture of human figures with animals for the multiplicity of subtle interactions depicted. To a Gitksan's man's question of why she wanted to paint totem poles, I have the fictional Emily respond, "Because I love even what I don't understand. Because they show a connection. Trees and animals and people. I want white people and your grandchildren's children to see this greatness."
On a more spiritual level, Carr wrote in her journal, "Our BC Indians lived in their totems and not in themselves, becoming the creature that was their ideal and guiding spirit. They loved it and were in awe of it and they experienced something." **
Poles were raised at elaborate potlatches involving strict protocol and ceremony. At such gatherings of several bands, the host, usually a chief, gave hundreds of gifts to the invited guests, in return for the guests serving as witnesses of ceremonies honoring the dead, bestowing names, joining in marriage, and inaugurating new communal houses.